Welcome to the homepage of our research group, headed by
Prof. Dr. Bulat R. Churagulov.
Group of Hydrothermal Synthesis is comprised of students of Materials Sciences and Chemistry Departments of the Moscow State University and graduate researchers. As a part of the Laboratory of Inorganic Materials Sciences, we are focused on the development of the soft processing approaches for the synthesis of various materials, e.g. simple oxides nanopowders, complex substances, one dimensional (1D) nanostructures, hybrids, nanocomposites, TOCs, HA, and so on. We invite you to read about the members of our group, visit the pages describing the fields of our research, and find out what papers we have written.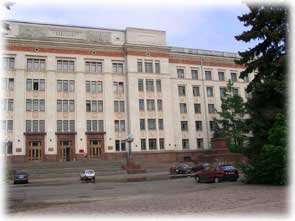 Location: Chemistry Department of the Moscow State University, room 552.
Mail address: Inorganic Chemistry Division, Department of Chemistry, Moscow State University, Leninskie Gory 1/3, 119991 Moscow, Russian Federation.

Phone: +7 495 939 57 42

Fax: +7 495 939 09 98

E-mail addresses of the Group members can be found out on the personal pages "Staff".