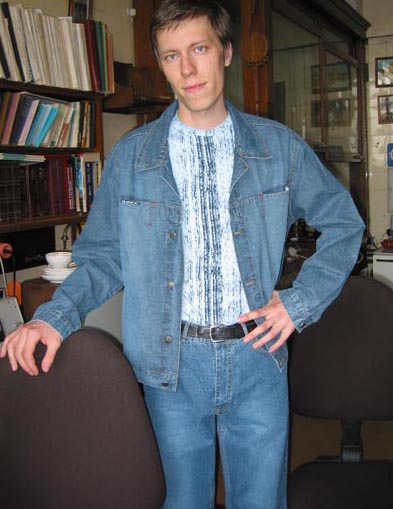 Curriculum Vitae

Egor V. Tikhonov

Department of Chemistry Moscow State University Leninskie Gory Moscow, Russia,119992 Tel: (095) 939-2086 FAX: (095) 932-8846 e-mail: high_egor@mail.ru

Born 23 June 1981

Professional Experience

3-year experience in the field of surface science including the following experimental methods: XPS, ARXPS, UPS, AES, LEED, EELS, STM, AFM, SIMS on the VG-Scientific equipment (ESCALAB series). This includes the following procedures: surface treatment (vacuum cleavage, chemical and chemical-mechanical polishing, Ar-sputtering, vacuum annealing), spectra recording, mathematical treatment, data interpretation in terms of different models, spectrometers exploitation, service and repair.

Advanced knowledge of Delphi and Pascal programming languages, network administration, web-design.

Education

1998 to 2003

MSU, Chemistry Department

Moscow, Russia

Student, Diploma work "Study of oxidation of PbTe surfaces"

2003-2006

MSU, Chemistry Department

Moscow, Russia

PhD Student

Awards

1999

Student grant of the International Soros Science Education Program.
Field of interest: surface science, solid state chemistry and physics, synchrotron radiation, semiconductors, crystal growth techniques.
Grants
1998-2000
Grant of State Program "Universities of Russia – fundamental Researches" – "The principals to control semiconducting multicomponent crystal composition and growth rate" (Reseacher)
1999-2001
Grant of Russian Foundation for Basic Research "Non-stoichiometry and reactivity of phases in three- and four- component systems" (Reseacher)
2002-2005
Grant of Russian Foundation for Basic Research "The reactivity of NaCl-structural type nonstoichiometric semiconductors in heterogeneous reactions" (03-03-32301 Reseacher)
Publications
Тихонов Е.В. Определение лимитирующей стадии роста кристаллов PbSe методом "пар-жидкость-кристалл". Международная конференция студентов и аспирантов по фундаментальным наукам "Ломоносов-99". 20-23 апреля 1999г., Москва.
Shtanov V.I., Yashina L.V., Timofeeva O.E., Tikhonov E.V.. Preparation of AIVBVI compounds and solid solution bulk crystals by improved VLS technique. VII European Conference on Solid State Chemistry, Universided Complutense, Madrid, 15-18 September, 1999.
Тихонов Е.В., Яшина Л.В., Штанов В.И.. Кинетика кристаллизации из газовой фазы и в условиях сосуществования трех фаз (ПЖК). XI симпозиум "Современная химическая физика". 18-29 сентября 1999, Туапсе.
Неудачина В.С., Тихонов Е.В.. Исследование окисления поверхности кристаллов (Pb,Ge)Te методом рентгеновской фотоэлектронной спектроскопии. Школа-семинар "Актуальные проблемы современной неорганической химии и материаловедения". 1-4 марта 2001 г., Дубна.
Тихонов Е.В.. Синтез и исследование кристаллов PbTe легированных галлием. Школа-семинар "Актуальные проблемы современной неорганической химии и материаловедения". 1-4 марта 2001 г., Дубна.
L.V.Yashina, S.P.Kobeleva, V.S.Neudachina, E.V.Tikhonov, T.B.Shatalova, V.P.Zlomanov, XPS study of fresh and oxidized (Pb,Ge)Te crystal surface. 9 European Conference on Application of Surface and Interface Analysis. Avignon, 1-5 October 2001
Неудачина В.С., Тихонов Е.В. Концентрационная зависимость скорости окисления поверхности полупроводниковых материалов (Pb,Ge)Te. Школа-семинар "Актуальные проблемы современной неорганической химии и материаловедения". 2-5 марта 2002 г., Дубна.
Неудачина В.С., Тихонов Е.В. Исследование окисления поверхности полупроводниковых материалов Pb1-XGexTe методом рентгеновской фотоэлектронной спектроскопии. Международная конференция студентов и аспирантов по фундаментальным наукам "Ломоносов-2002". 9-12 апреля 2002г., Москва.
В 2002 году на конференции "Ломоносов – 2002" доклад был отмечен жюри.
Статьи в печати:
PbTe(100) clean surface preparation. Applied surface science, 2003, in press.
Surface state changes in Pb1-xGexTe solid solutions during their oxidation. Poverkhnost (Surface investigation: X-Ray, synchrotron and neutron techniques), 2003, in press.

Family status

: single.

Hobbies

: yoga, flute playing, photography.